By madgett on July 30, 2013
You may have received an email from RefWorks recently explaining why some log-in names have been changed. Here is what we received: We're changing the log in process to eliminate the need for users to supply a Group Code during login – a feature many of our users have asked for. This means that every […]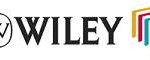 By madgett on June 4, 2013
The Wiley Online Library is experiencing problems exporting citations to RefWorks. To get around this, please try the following: *In Wiley Online Library:* 1. Perform your search. 2. Click the boxes beside the references you wish to export. 3. Select *Export Citation* at the top of the search results. 4. A new window will […]
By madgett on September 7, 2012
Currently, there is a known problem with exporting citations directly from various ProQuest databases to RefWorks. This is being worked on, and we hope for a resolution soon. The problem seems to occur more often on campus and less often to off-campus folks working via EZproxy. In the meanwhile, there are a couple work-arounds for […]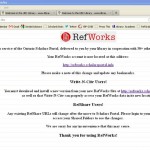 By madgett on June 25, 2012
*UPDATE* Problem sorted. Linking to RefWorks page working. Some folks trying to get to the usual RefWorks login page are being re-directed to a page like below. Please clear the cache & cookies from your browser and try connecting again. We'll work on our end to get a fix. Stay tuned!
By madgett on May 11, 2012
Thank you for your patience while we worked on the recent problem with RefWorks & EZproxy. A fix was initiated yesterday, and so far it's looking good. Thanks Joerg & the LSIT crew! Please try the following if you are off campus and want to access your RefWorks Account: clear the cache & cookies from […]

By madgett on May 10, 2012
Apologies as the problems with RefWorks continue. If you are on campus, all should be working well. If you are off campus, we have two methods to get into your existing account: Method A (using myVPN): Clear the cache & cookies from your browser Read about and install myVPN if you haven't already [ Info […]
By madgett on May 2, 2012
Trying to access RefWorks while off campus via EZproxy seems to be causing problems. While we investigate, please use MyVPN when off campus for now if you are going to be importing citations into RefWorks. MyVPN instructions are here.
By madgett on May 1, 2012
Scholar's Portal (the platform for RefWorks, ITER eBooks and perhaps a few other resources) is going down for maintenance on May 4th at 9:00pm for about 4 hours (1:00am May 5th). Sorry for the inconvenience.
By irobb on August 18, 2011
There are problems with the direct exporting of citations to RefWorks from the new ProQuest platforms. Patrons are being directed to the US server, then on re-direct to Scholar's Portal (our Canadian instance of RefWorks), an error message appears. The worse news is ProQuest expects it to be August 24th or as late as September […]
By irobb on August 6, 2010
When exporting citations from the new OvidSP platform to RefWorks, keep in mind the following: If on campus, exporting to RefWorks should be no problem. If off campus and logged in via MyVPN, exporting to RefWorks should be no problem (try clearing the cache & cookies from your browser as a first solution if you […]