By madgett on February 19, 2016
Due to a change in how URLs are formatted (http VS https), some Oxford Journals are popping up error messages on and off campus. Hopefully, this will be resolved soon. In the meanwhile, report problems to us via our Help Form. A work around (on campus only) is to take the problem URL in the […]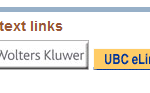 By madgett on November 30, 2015
If you are presented with this option for Linking Out of PubMed to an article, either click on the UBC eLink icon        or go to the "LinkOut -more Resources" drop-down under the Abstract and select the "Ovid Technologies, Inc." link. This is especially important when off campus and logging in through EZproxy […]

By corinne2 on July 23, 2014
Oxford Journals are accessible from off-campus again.  The EZproxy issue has been resolved.
By madgett on October 19, 2012
Recently, several people have seen the following error message when using EZproxy: Inter-institutional access failure. Please contact your system administrator for assistance We are investigating the cause. In the meanwhile, clearing the cache & cookies from your browser appears to help. If you've tried this and the problem persists, please contact us using the eResources […]
By madgett on May 2, 2012
Trying to access RefWorks while off campus via EZproxy seems to be causing problems. While we investigate, please use MyVPN when off campus for now if you are going to be importing citations into RefWorks. MyVPN instructions are here.
By madgett on February 15, 2012
**EZproxy is back. Clear your browser's cache & cookies, please** Yikes! EZproxy is having a problem this morning. Please be patient as we work this out. This will affect access to MyiLibrary, EBL (eBook Library), ebrary Bookshelf and any resources requiring EZproxy. For off campus access, use myVPN for now.
By irobb on December 6, 2010
*Problem fixed* The Barcode & PIN log-in (the left-hand part of the EZproxy screen) is having a bad Monday. Please use your CWL for now when passing through EZproxy. Repairs underway. Watch for updates. …or, if connecting from off campus, log into myVPN as an alternative.
By irobb on November 30, 2010
*EZproxy working for this collection now. Clear browser's cache & cookies and link away* Linking to the ALPSP Learned Journals Collection from our ejournal A-Z list or via SFX (our OpenURL resolver) is leading to an error message some thing like… To allow http://www.swetswise.com/link/access_db?issn=1387-2877 to be used in a starting point URL, your EZproxy administrator […]