madgett
By madgett on May 9, 2019
Update: Access restored May 13th 8:30am PST The vendor is continuing to monitor and address any remaining user experience issues in the coming days.   We will report further updates as they are released. A variety of Kluwer Law resources (Kluwer Law journals, Kluwer Arbitration International, Kluwer Law International, various Tax Libraries, CCH, etc.) are down.  […]
By madgett on May 9, 2019
STATUS UPDATE – TOOLS WORKING NOW The tools for the Joanna Briggs Institute (JBI) Evidence-Based Practice (EBP) site on Ovid are not currently working. Per the Provider: "Unfortunately, due to ongoing network issues we are having at the Ovid end the JBI EBP tools are unavailable and the error message you see is appearing when […]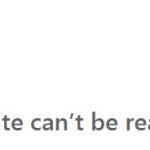 By madgett on May 6, 2019
UPDATE : Access Restored. Access to all OVID resources is currently unavailable due to a system wide outage on the vendor site.  This impacts access to: Medline, Embase, LWW journals, Books@OVID, HAPI, EMB Reviews. They are working to restore access as quickly possible.
By madgett on April 11, 2019
UPDATE => ScienceDirect restored. Elsevier has restored access to ScienceDirect. They blocked access for almost a full day due to "Systematic downloading of significant amounts of data". Please read about the use of Library-licensed online resources. Do not use automated software to download articles. If you wish to do Text & Data Mining or other […]
By madgett on March 21, 2019
Update : Site back up ProQuest eBook Central seems to be down. Error message says "Cannot connect to the server." We are investigating. Stay tuned.
By madgett on January 31, 2019
UPDATE – move went well with few problems reported! Due to a migration to new servers by our third-party eResources Discovery provider, the eJournal Portal (our ejournal linking from the "Journal Titles" tab on the Library Homepage) and our Citation Linker (also known as UBC eLink – the page with a big blue button that […]
By madgett on January 24, 2019
UPDATE – Older versions of Firefox still displaying error message. Other browsers working. If using Firefox, get latest version; otherwise, use another browser. Remember Internet Explorer needs Silverlight plug-in. Criterion-on-Demand is showing an error message instead of playing videos. We are working with them to resolve this. Thanks for your patience.
By madgett on January 21, 2019
The Walter de Gruyter website, which host many ebooks (including Harvard and Columbia) is verrrrrry slow. We have a ticket in to de Gruyter. Please be patient while we work on this issue. The page will load… eventually.
By madgett on December 24, 2018
Happy Holidays! The eResources & Access Team will be away till January 2nd. The University is closed till then as well. Please continue to report any access problems via our HELP FORM, and we will look into it in the New Year.

By madgett on December 19, 2018
UPDATE Access to Wiley ebooks restored. Loss of access to many Wiley Online eBooks. We are working on a solution, stay tuned! Report any problems via our Help Form.