madgett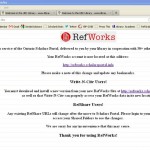 By madgett on June 25, 2012
*UPDATE* Problem sorted. Linking to RefWorks page working. Some folks trying to get to the usual RefWorks login page are being re-directed to a page like below. Please clear the cache & cookies from your browser and try connecting again. We'll work on our end to get a fix. Stay tuned!
By madgett on June 20, 2012
This just in… "CANCELLATION NOTICE: Please be advised that due to funding constraints, UBC Library and the Office of Research Services will be cancelling their jointly-funded subscription to the COS Research Support Suite (comprising COS Funding Opportunities; COS Funding Alerts; COS Papers Invited; COS Scholar Universe; and COS Pivot, formerly COS Expertise). The final day […]
By madgett on May 28, 2012
**UPDATE: All went well last night. No reported problems. (knock on wood)** Just a heads up that EZproxy (which many people use for off-campus access to Library resources) will be down at 6:00 pm today for an upgrade. Down-time expected to be brief. If you experience EZproxy problems after, say, 6:30 pm, please report them […]
By madgett on May 22, 2012
*UPDATE* Second copy up and running. Access restored** Handbook of public pedagogy : education and learning beyond schooling / edited by Jennifer A. Sandlin, Brian D. Schultz, Jake Burdick. Unfortunately, we have hit the limit when it comes to the number of views allowed with the copy of the ebook that the Library has purchased. […]
By madgett on May 17, 2012
We have several eBooks form the University of Toronto's ITER publishing, but they are not available at the moment. These are part of the "Other Voice in Early Modern Europe" collection. We are working on getting the links fixed.
By madgett on May 11, 2012
Thank you for your patience while we worked on the recent problem with RefWorks & EZproxy. A fix was initiated yesterday, and so far it's looking good. Thanks Joerg & the LSIT crew! Please try the following if you are off campus and want to access your RefWorks Account: clear the cache & cookies from […]

By madgett on May 10, 2012
Apologies as the problems with RefWorks continue. If you are on campus, all should be working well. If you are off campus, we have two methods to get into your existing account: Method A (using myVPN): Clear the cache & cookies from your browser Read about and install myVPN if you haven't already [ Info […]
By madgett on May 2, 2012
Trying to access RefWorks while off campus via EZproxy seems to be causing problems. While we investigate, please use MyVPN when off campus for now if you are going to be importing citations into RefWorks. MyVPN instructions are here.

By madgett on May 1, 2012
Just a heads up about several new JSTOR resources we have added over the last little while: Aluka: African Cultural Heritage Sites and Landscapes — "African Cultural Heritage Sites and Landscapes includes spatial, visual, and contextual documentation of heritage and rock art sites throughout Africa." –Aluka Aluka: Struggles for Freedom in Southern Africa — "Struggles […]
By madgett on May 1, 2012
Scholar's Portal (the platform for RefWorks, ITER eBooks and perhaps a few other resources) is going down for maintenance on May 4th at 9:00pm for about 4 hours (1:00am May 5th). Sorry for the inconvenience.