Posted on November 2, 2011 @1:33 pm by irobb

Beginning Friday, August 26th, there will be limited help available from the Library's E-Resources & Access (ejhelp) unit till September 6th.
Please do continue to send in your questions/problems via our HelpForm or wherever you see the Access Problems? button during this time, but some questions will have to wait longer than normal for a response.
Sorry for the inconvenience. Thanks for your patience, E-R&A.
No Comments
---
Posted on November 2, 2011 @1:33 pm by irobb

"ProQuest Public Health is a new and unique database; designed to be the ideal starting point for public health information and research. It delivers core public health literature with centralized access to over 690 publications with over 495 in full-text... ProQuest Public Health also includes current newspaper articles for uncovering timely results on the latest breaking topics…" -ProQuest.com
Trial runs from Aug 24, 2011 – Sep 30, 2011.
No Comments
---
Posted on August 18, 2011 @3:28 pm by irobb

There are problems with the direct exporting of citations to RefWorks from the new ProQuest platforms. Patrons are being directed to the US server, then on re-direct to Scholar's Portal (our Canadian instance of RefWorks), an error message appears.
The worse news is ProQuest expects it to be August 24th or as late as September 8th (!) before this is fixed.
Stay tuned.
2 Comments
---
Posted on November 2, 2011 @1:35 pm by irobb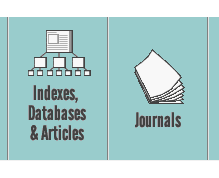 If you are wondering where the ejournals are in the Search Collections Portal, it's pretty simple.
Print and ejournals are under "Journals". The search box on the left searches the UBC Catalogue for Print and ejournal titles. The search box on the right searches searches the Serials Solutions knowledgebase for ejournal only.
And what if you have a DOI or PMID number for an article? You can search those under "Indexes, Databases & Articles", bottom right search box.
No Comments
---
Posted on November 2, 2011 @1:35 pm by irobb

*UPDATE* Migration nearly complete. Some smaller Databases (like "Ceramic Abstracts") have been absorbed by larger Databases. Those Resource pages will point to the pages for the larger site. Please contact us if you have questions.
We are currently migrating ProQuest, CSA and a couple Chadwyck-Healey Databases to a new Platform. Here is the list (so far):
Hoover's Company Records
Canadian Research Index
Worldwide Political Science Abstracts
ARTbibliographies Modern
COS PapersInvited
COS Funding Opportunities
COS Scholar Universe
Environmental Sciences & Pollution Management
International Bibliography of Art
International Index to the Performing Arts
Library and Information Science Abstracts (LISA)
PAIS International and PAIS Archive
ABI/Inform Global
ASFA – Aquatic Sciences & Fisheries Abstracts
Avery Index to Architectural Periodicals
British Periodicals I & II
Canadian Newsstand Complete
CBCA Complete
Design and Applied Arts Index: DAAI
ProQuest Dissertations and Theses – Full Text
(note: a link for a database limited to UBC D&T's has been added)
Earthquake Engineering Abstracts
ERIC
Index Islamicus
International Index to Music Periodicals, Full Text Edition
Linguistics and Language Behavior Abstracts (LLBA)
Materials Research Database (also called Metadex)
Meteorological & Geoastrophysical Abstracts (MGA)
Proquest Historical Newspapers (each newspaper has a link now)
Social Services Abstracts
Sociological Abstracts
Zoological Record Plus
The Resource pages have been updated. Individual ejournal titles will be re-routed soon.
No Comments
---
Posted on November 2, 2011 @1:35 pm by irobb
Project Muse is doing two things in the new year: launching a new site and offering ebooks.
A pre-view beta site has been launched here.
The symbols on the left will clearly display the content that is currently available to UBC patrons. This will most likely change after the launch in January 2012, so browse and take advantage now. More info about the ebooks and the 2012 launch can be found here. NOTE: Open & Free titles on the beta site can be accessed from anywhere, BUT for our subscribed titles use this Library Resource page and go to the original site.
"The beta site showcases Project MUSE's sophisticated new cross-content, faceted search functionality, and allows browsing of books and journals side-by-side. A powerful new hierarchical subject structure permits users to drill down to the most relevant content, and encourages discovery. Over 300 digital books, from 27 publishers, are available for free sample access on the site during the beta period." –Project Muse
No Comments
---
Posted on November 2, 2011 @1:35 pm by irobb

Just a reminder: If you see this "Release This Title" button when looking at an ebrary ebook, PLEASE do click on it when you are done.
eBooks with this button are Single Use titles. This means that no one else can look at it until you release it (or a certain amount of inactive time passes after you leave the site –a drag for those waiting).
So, as it used to be "Be kind, rewind" when done with video tapes, think "Bring peace, release." Well, you get the idea.
No Comments
---
Posted on November 2, 2011 @1:35 pm by irobb
*UPDATE* Problem resolved. Clear Browser cache & cookies if still experiencing linking problems*
Health Reference Center Academic
CPI.Q
LegalTrak
The above Gale databases may be experiencing some linking problems to journal & ebook titles. It is being investigated.
No Comments
---
Posted on November 2, 2011 @1:35 pm by irobb

Do not adjust your monitor. We do look different.
The blog is changing its look, and maybe some of its functionality. It really is a construction site at the moment, so please be patient as we sort out this new template.
…and maybe you can help. While the current photo is rather restful, it's not exactly E-Resource related. Got a photo you think would work? Email me [ lorne.madgett@ubc.ca ] and maybe we'll agree. But nothing too racy, okay?
No Comments
---
Posted on November 2, 2011 @1:35 pm by irobb

The NetLibrary platform is no more, but all ebooks should have moved to the new EBSCOhost eBook Collection platform. Currently, all URLs and links are re-routing. So, access seems to be ok but the look will be new. Let us know if you run into problems.
Any personal accounts that had been created on NetLibrary will NOT be migtrated. You need to create a new EBSCO personal account, if you want one. To do that, go to this page and click on "Sign In" (top line) then follow these instructions.
Currently, UBC Library only has the ability to read ebooks online in the EBSCO Viewer and print pages (limits vary with publisher). The downloading features are not active, yet.
No Comments
---